LONDON IS THE INTERNATIONAL PLACE TO BE, I have just found out.
The local news reported on Sunday that more billionaires now live here than in any other city on earth. When I moved to London in 1996, Time magazine and other American publications were reporting that we were "swinging" again (presumably like we used to do in the 1960s) ~ that
Britannia was again cool
. In 1998, Madonna came here. She met her husband-to-be Guy Richie in 1999 and married him the next year.
Before I came here I did look into the possibility of migrating to New York City, but for a nobody like me who had only ever worked in menial office jobs the visa regulations were so forbidding that I didn't even bother (and I never have been the type of person who would wing it and live as an illegal alien!) But then I came here and found that everything I'd wanted of New York, London actually did better; I'm talking about dance clubs, theatre, museums, parks, art and culture in general. What London never has done as well as New York is self-promotion. I have always known far more about the "high society" of New York than I do here ~ perhaps because America has more celebrity names and, until recently, had far more famous billionaires than London ~ all of which made the city seem as glamorous to me as its sparkling skyline. The billionaires who have chosen London today comprise an international set, and most of them seem to come from Russia or Asia.
As a result, house prices at the top end are absolutely ludicrous, with properties going on the market with asking prices in excess of $100 million. Posh Spice and David Beckham recently moved back here into a £40 million ($67.3 million) double-fronted Kensington townhouse. In late 2012, a rather nondescript property on one of our "billionaires' rows" (Bishop's Avenue, Hampstead) went on the market for £100 million ($168.3 million) with the cheeky estate agents demanding £5000 ($8410.50) just for the brochure. And nobody was allowed a viewing without first purchasing said booklet.
So why of all places is London so internationally appealing?Well partly it has to do with so-called "non-dom" (non-domiciled) tax regulations, where if you come in and live here on earnings from businesses outside the UK you can get by paying no UK income tax at all! British immigration and visa requirements have always been more liberal (for example, the USA demand to know whether visa applicants have ever been arrested (not convicted of anything ~ just arrested!) Britain is far more laissez-faire and you'll only run into trouble if you've done prison for more than four years. We're geographically closer to much of the rest of the world than New York. The climate is milder (and contrary to myth it doesn't rain all the time!) British private schools are said to be among the best in the world (though the same cannot be said about the state sector).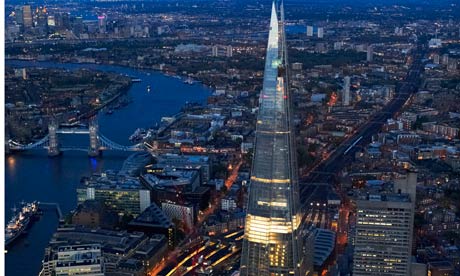 I suppose most cities are nice places to live when you have a net worth in nine figures. And London is a wonderful place. That said, I would really like to see the Big Apple for myself. Every time I see a film set there, I spend as much time focusing on the beautiful backdrop of New York City's streets than on the rest of the action. I suppose billionaires will always go where it's most convenient to be a billionaire and if that means London then so be it. But I have to say, if I ever did have £40 million to spend on a house, I'm not sure I would buy where everybody else does. (I'd actually rather have a large apartment with roof terrace than a house ~ wouldn't you?)
Hmmm anyway. Anybody planning to become a billionaire in the near future is welcome to comment on whether they're most likely to opt for London or New York City as their primary place of residence and why... in the meantime, best of luck to all of you in your attempts to cross that pesky barrier dividing £999,999.99 from the crème de la crème of this wonderful world of ours!
Illustrated: downdown Manhattan viewed from Central Park; the Beckhams'
$67 million London mansion
; $167 million house in London;
One57 building
in New York ~ the penthouse has already sold for $95 million;
The Shard
building in London with apartments for up to $83.6 million ~ and you don't even get a terrace!;
One Hyde Park
in London ~ not our prettiest development, but one of the smartest addresses in the metropolis and at least you get a balcony! Prices range from £3.6 million ($6,059,547.48) for a one-bed to £136 million for a penthouse (wouldn't you just love to take 2 and knock them together?!) ~ and by the way £136 million calculates to precisely $228,916,238.27 ~ do you think they'd accept $228916238.26??