I'VE JUST PLUNKED £105 ($163.83) down on another (used) sofa + pair of matching armchairs. They are beautiful.
The minute I saw them, nearly a month ago, I thought "I want!"... And OF COURSE a bloody great RESERVED sign lay right across my seating. It's an unusual metalic green-and-beige kind of colour. Not at all the type of furnishing you'd expect in a batchelor pad. On the phone to my folks I called it an "old lady's couch" ~ it's very padded and sumptuous and you can imagine a 67 year old putting her feet up on one of those armchairs whilst popping dihydrocodeine, in recovery from a quadruple heart bypass op. If you're wondering why the image is so specific, it's because it reminds me of my friend Tommy Tired's former landlady Marge whose gay son lives a half-hour wander from my old house. He's been off work for years, faking schizophrenia. He's one of the people who make me flip out internally when I think of what they've done. There was me, desperately needing
some
kind of help for years, and never getting it (I kind of knew I had some problem underlying this drug addiction and, in my heart, knew it wasn't just ordinary "depression"), whilst people like him play the system and get away with it. I couldn't grass him up even if I wanted to. It would just be my word against his and his longstanding doctors. (There is something "wrong" with this guy though, I mean, he's totally neurotic for starters... But he does
not
hear voices, see visions in the dark or get so paranoid he doesn't know who to turn to...)
Anyway!:~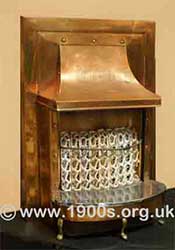 I came back to the shop today for a three-seater mud brown sofa with matching endpiece (making four seats) but Binky said it looked horrible and it was like sitting on soggy old cardboard boxes. Not good. The lady who runs the charity shop said she'd do it all in (inc. delivery) for £50 ($78) but even then, it was obviously only a temporary solution. Like the kind of furniture you found in early 90s style of student accommodation I used to reside in ~ no double glazing,1950s gas fires and mismatched 60s and 70s wallpaper.
So far I've spent £165 ($257.41) on a two-seater red sofa, film director's chair, large bookcase, small outdoors occasional table, plus three-seater viridescent beige sofa and the pair of matching chairs. O yeah and I got a blind matching the new furniture ~ that's another fiver ($7.81) making £170 ($265.54)
I went to see a rather militant locum dentist this morning who insisted I invest in an
Oral B
electric toothbrush. So I'm really glad I didn't waste £19.99 on a
Vitality
toothbrush because that would have left me too broke for the sofa. I told the dentist that back in the 80s, when I was at school and the adverts used to say "ask your dentist", my dentist used to say all toothpastes were the same and that I should use a soft ordinary toothbrush. Back in those days electric toothbrushes were considered a real extravagance, suitable only for persons too decrepit or disabled to brush manually. They were the sort of things we knew Americans probably used, alongside their garage door openers and electric can-openers.

Hmmm... anyway I've got to go. Must rush home to move my red 2-seater couch out of the way to make room for all this viridescent furniturial entertainment. Wish me luck with the delivery. The shop kept saying if their henchment couldn't weild it up my public stairway and/or into my flat then my money was down the drain. It was this type of talk that had put the fear of the devil into me regarding delivery of the
last
sofa:
will it fit in my hallway...? will it get stuck in the public stairs...?
Then my Mum talking about bulky items having to go in through the
back
door on the balcony via cherry-picker..! More than likely the entire lot will fit in the lift anyhow so I don't know what I was fretting about...
The illustration doesn't really do my new couch justice. I think it's the nicest second-hand sofa I've ever seen...
Anyway have a wonderful day everyone ~~ I'm outta here!!