AT THE WEEKEND, after I'd got a bit over-exuberant and what she likes to call "really manic" but I would categorize as "a bit hypomanic" (no way was I "really manic" in doctorly terms; I was just a bit elevated in mood; a little hyper) my friend Binky told me I really need more help from the mental health services than I'm currently getting. It's true the first thing she did on my arrival was to insist on laundering my clothes, which I thought were clean but she definitely didn't. Then I had a shower in her heated bathroom, which meant that I spent longer than a couple of seconds in there. And on coming out and changing into grey jogging bottoms and a fuschia pink teeshirt that she insisted was red but it wasn't ~ it was most definitely pink ~ I have to admit, I felt a whole lot cleaner. That is, cleaner as in less dirty. Not altogether clean. I never am and never feel "clean". But maybe that's my inner drug-addict being honest, hey.
One of the Support Workers who works at the Supported Housing where Binks lives listened as I told the story of how I ever came to the attention of the mental health system at all. That was to do with a drought in the UK's heroin supply and a sudden attack of mixed mania and psychosis coinciding with the "first day of the rest of my life"... that is, my first day clean of the terrible weak and adulterated heroin that was going around in those days. And how I never really recovered over the following weeks. Because I was keeping a diary with a four-point mood-scale going upwards and down and was scoring +1.5 and -1.5 on the same day. +1.5 means a very noticably elevated mood and hyperkinesis similar to the effects of speed. -1.5 is a very sour, depressive mood. +2 on this scale means full-blown mania, +3 is psychotic mania, +4 is a quasi-delirious state with disorientation and confusion ~ as bad as mania gets. The very maximum on each end would be a plus or minus five.
In the first flush of psychotic mood disorder I went up to about +3.5 and down below -4. I remember the aerial falling off the top of my TV and it staying that way, with barely any picture, for two days because the television was merely an object upon which to fix as I stared into space. After about six weeks of rolling moods I suddenly went sky high and this is where I hit a +4.99, about as high as you can go.
But these days I'm still scoring plus and minus 1.5s. I was +1.5 on Saturday afternoon. My self and my house are getting ever further into disarray. [I never stay high; it's the change of direction that throws me every time. I never know where I am, where I'm going.] Binky somehow knows that my living space is in dire need of clearing and cleaning, even though she's never set eye on it. She needs a knee replacement and so rarely walks further than the nearest busstop, and when we meet at home it's always her place.
In a moment of empassioned despair I went and telephoned Naomi, the lady who used to run the Dual Diagnosis "Nutter Club" (as I called it). I'm not her patient and she knows I'm only phoning for advice. I would never expect practical help from her: she's far too snowed under by all her other cases... She returned my call this morning saying the best thing I can do, to get more help, is say to my GP that I need a psychiatric referral ~ or more to the point, to enquire as to where the current one has got to. When I turned up feeling depressed about two months ago, she said she was referring me to a psychiatrist. The other option is to ask for help via the methadone clinic; but Naomi underlined for me how prejudiced psychiatrists can be against drug users (that must mean they're prejudiced against most of their patients as most people with ongoing mental health issues these days are drug-takers, if not full-blown drug-addicts like me...)
She reminded me of stuff I suppose I already knew in my heart: that if you want help for depression, for example, you shouldn't downplay the "suicidal ideation" nearly all depressives get. I just don't like talking about stuff like that; unless I really feel bad in the moment I mention it, I nearly always feel separated from my own feelings and myself when I do so, so there's a good chance I'd have to hold myself back from laughing. I can't take myself seriously the way I'm "supposed to". I just can't. Well I'll try... but I wonder what I think this doctor can do..? I don't want any more meds or drugs. The one thing I think might help is counselling... I mean, I hate to admit this, as counselling has always been the knee-jerk response of health professionals of all persuasions... but who knows; maybe it would help...? It's true I still feel traumatized by the mere fact that I went totally fruitloops barking bonkers in early 2011. I certainly do not feel I've had any closure on this issue.
Binky says that what I need is the same manner of Supported Housing she lives in. And that I need a social worker and a thing called a CPA which means a Care Plan Approach ~ a written contract-type billing of what treatment I can expect and call upon when and from whom, especially in emergency. Because as far as I'm aware I have nothing like this. No community nurse I can get in touch with. All I know about handling emergency situations is that I'm meant to present myself to the nearest mental hospital's emergency department. Where they seem deliberately to keep everyone waiting for hours, as if the long waiting time is going to put anybody off when actually all it does is severely annoy some already annoyed people and help further to unravel others who have already passed their wits' ends.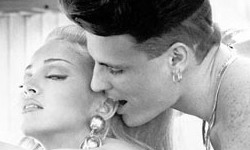 So really, No. No true help is available anywhere. Maybe I would do better in a Dual Diagnosis Service (geared towards mentally deranged drug addicts) rather than the one I go to, which seems to be geared to the needs of people whose main issue is the drugs. Giving up the drugs never seemed to help my mental states in the past, which is why I'm somewhat doubtful that just giving up heroin is really going to do much good to my mind. It'll probably do my body far more favours. The two street drugs most associated with mental ill health and addiction are cocaine and speed in all their forms, neither of which I've touched in I don't remember how long. In many cases, cannabis is probably worse for a person's mental health than anything else, including crack. Which is a big reason why I loathe the stuff with such passion.
All that spliff-toking has ever done to me over the past few times, scattered as they were over many years, was to bring on paranoid psychotic symptoms without any redeeming features (such as elevated mood). The last time I smoked cannabis was a complete accident that happened because I'd been collecting cigarette butts from a nearby bus-stop and found what I'd taken for a nice fat rollie and not really noticed the herbal flavour until my mind was already enrobed by amnesiac paranoia. Then there's alcohol and "alcohol is a depressant so that's what's probably making you depressed" as many people told me... So how come I've felt equally bad, and sometimes more so without the drink..? I don't think heroin helps me... Naomi did say this morning that she thought I'd probably been self-medicating bipolar disorder for years with heroin; and yes it did used to seem to stabilize my moods. Which it doesn't do any more. So apart from its inefficacy, I want rid of that stuff because as a member of my family once pointed out, it has killed my creativity. And it certainly has. In the early days of addiction, heroin might make a person feel more creative. But I don't think they usually are any more creative, in terms of the number of things created and their quality...
Naomi asked what my exact label was and when I told her "schizoaffective" she said she feels I'm far more towards the bipolar side of that diagnosis than the schizo one. Which puts her in accord with everyone else I know. Neither I nor any of my friends think of me as "schizophrenic". In fact the only person ever to use that expression has been my GP, who doesn't seem to perceive any meaningful difference between schizophrenic and schizoaffective. Well from what I've seen in others there's a wide gulf separating the two. Schizophrenia is an ongoing psychosis characterized by disorders of thought. Schizoaffective bipolar disorder, which I'm supposed to have, is an extreme disorder of moods with some schizophrenic features. There's a second type of schizoaffective disorder, which Binky's supposed to suffer from, which involves severe depression on top of schizophrenia. The doctors seem to have successfully medicated most of her depression away but schizophrenic features persist. If you get her talking on the right subjects, she can sound completely delusional...
Binky also says some weird things that are basically her shit. Eg that if I read too much about my own alleged condition the doctors will alledge that what I'm telling them is the result of my researches, not my experience. Well this cannot be true as I wasn't well enough to pick up any knowledge about what schizoaffective disorder actually was until I'd recovered enough from last year's episode to be clear-headed enough to actually take any information in. And between that time and this I haven't seen any psychiatrists at all. Also some of my most extreme experiences are barely touched upon by any modern texts ~ I only saw them described in Victorian textbooks I was able to access online. Plus the way I'd describe my experience and the way it tends to be expressed by others are very different. Example: I have experienced my thoughts exploding into starbursts. I've never heard anyone describe it that way. Other people talk of "racing thoughts", but that symptom never happens to me until the mania is so severe I'd be having difficulty communicating. Binky talks of racing thoughts she says she experiences in the night but I cannot relate to whatever it is she means. A person who comes home in the early hours of the morning only to find they've lost their keys might characterize their thoughts as "racing" ~ but that's nothing at all like the racing thoughts of mania, which are literally in such extreme fast-forward you can barely catch hold of a single one without it exploding into scores of others skedaddling in all directions with the utmost rapidity. So it's almost impossible to say what you're thinking about at all ~ the subject has changed so many times, the original point totally lost. You can't even remember where you've been, let alone how you got there...
Ho-hummm you see I have got on this subject YET AGAIN. And WHY? Because there is no closure. All I want is some validation and maybe some explanation... of what on earth it is that has been happening to me.
As for this "help" that I supposedly need... what help? When? How? And WHY??

Illustrated: (1) digging one's own grave (which is what you do when you tell anything to a psychiatrist...) (2) fuschia pink (3) hyperactivity (4) Vanilla Ice with Madonna
HERE'S SOME MADONNA
Watch the very beginning... why do you think she wants to start her concerts with readings from Revelation..?
♫♫♫♫♫♫♫♫♫♫♫♫♫♫♫♫♫♫♫♫♫♫♫♫♫♫♫♫♫♫♫♫♫♫♫♫♫♫♫♫♫♫♫♫♫♫♫♫♫♫

♫