I HAVE JUST ENDURED yet another session of crapping on about drugs in a group. It's so exhausting having to be respectful of other people's sobriety when really all I wanted to say and ~ ha! ~ I did say it was ~ WHAT'S SO WRONG WITH TAKING HEROIN ANYWAY? The only thing wrong with it, as far as I can see is that it's too expensive and illegal.
So when I was put the inevitable question: So why do you want to stop? And do you actually want to stop? I said Well I wanna stop because I'm so BORED of being a junkie and besides it's socially unacceptable and now I'm old I wanna be respectable and not just a great inflated raving hypocrite who still uses on the sly (like

Valerie

, Australia and the world's Greatest Housewife Heroin Dealer).
Also I intend to become the Andy Warhol of my generation (and I'm not put off by being "old": old, after all, is the new young). I wanna do something new with my life and I don't want to do it on drugs. By Andy Warhol,
I mean the Andy Warhol of children's books. Something like that. Also I want to become a great painter because new canvasses can go for millions these days. Also I plan on becoming a shameless social climber. Well I want to meet interesting people: great artists, fashion designers, photographers, writers, polar explorers and the like. I'd like to meet a real live titled aristocrat ~ just for the novelty value. I've never knowingly met a true upper class person in all my entire life. The crème de la crème of international society shall flock to my fabulous club nights. They will be like a more glamorous Monte Carlo version of

Studio 54

(I won't live in London when I'm rich ~ the taxes are too high). I'm also planning to go into business setting things up and finding things for people with too much money and not enough time. Example: if Elizabeth Taylor were alive and wanted to dispose of her Bulgari emeralds on the quiet, I'd broker the deal for her. (Why do you think I want to mix with the rich and the fabulous? To make money off them, of course!) I'd specialize in houses, yachts, planes, art and jewellery. All the stuff I really love! I might also set up an introduction agency for billionaires who want to find heiresses who aren't gold diggers. That would be a good one. I'd make my introduction fee a cool quarter million euros ($322,450.28)... Would that be too much? Or not enough? I don't want to sell myself short...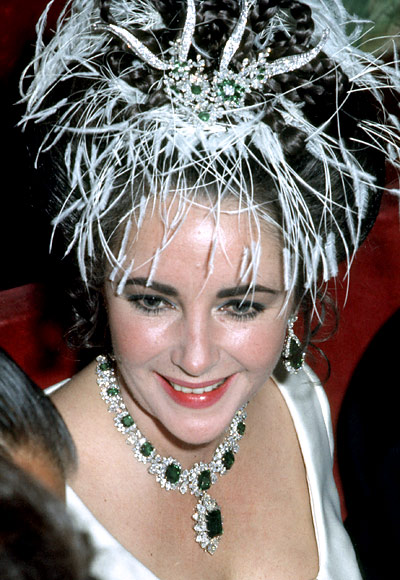 Anyway back to the drugs. Boring, huh. No more drugs for me. I haven't used for two whole days! Or three actually... maybe... whatever... I can't remember.
There's not much else to post except my elevated mood is falling! How terrible is that. I hate feeling human and fallible and normal. I actually deigned to pick up my writing last night and the last page I wrote was amazing. I wrote it when I thought I was in a hurry or couldn't concentrate and it just goes to show that genuis is unreliable. Because usually when I write something I think is marvellous it turns out to be crap!
Here's some hardcore trance music. Do you know I've just found out the music I really like is called "hard trance" ~ how pathetic is that? To love something dearly your whole life through (from 1998 onwards) and not even know the name of it? As per usual the first track is crap but about 4 mins in it starts getting good (that's the "Dreams" track I posted up before). And I really like the one after it that sounds like aliens in the forest sawing away at a Giant Redwood-sized magic mushroom....
Ill
ustrated: Monte Carlo; Andy Warhol; Elizabeth Taylor's Bulgari emeralds that I want to sell...
BTW: the whole lot went for $24,799,000 (£15,871,360/€19,095,230) ~ which I suppose is a reasonable price but I'm sure I could have got more... but hey if I took just a 5% cut of that, I'd have $1,239,950 (£793,568/€954,761.50) ~ not bad for a day's work...
♥
♢
♧
♤
◘
♫
☺

♥

♢

♧

♤

◘

♫

☺

♥

♢

♧

♤

◘

♫

☺

♥

♢

♧

♤

◘

♫

☺

♥

♢

♧

♤

◘

♫

☺

♥

♢

♧

♤

◘

♫

☺

♥

♢

♧

♤

◘

♫

☺

♥

♢

♧

♤

◘

♫

☺

♥

♢

♧

♤

◘

♫

☺