THE WEATHER HERE IN LONDON is more like a tropical rainforest today.
Hot, sticky, muggy ~ streets splashing wet...
The reason I have been so exhausted, by the way, is that I have been moving around far too much. I used to walk at 4 miles per hour, meaning that if I paced to and fro at that rate I'd ping 16 miles in 4 hours. So I must have walked miles and miles and miles and most of it in my own house!
My mood has gone down. Dysphoria. Flashes of anxiety. Yet still the headful of pinging ideas!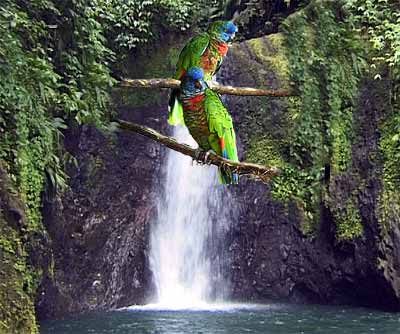 I keep telling myself I need to go back to the doctor to ask for yet another type of antipsychotic. For all their horribleness and side-effects, and I stopped taking the Seroquel (quetiapine) because it was making me drowsy, exhausted and malaised all the time, they do even out mood swings, halt racing thoughts and calm me down.
Yesterday I felt physically exhausted though my mind was still racing, crammed and crowded with an excess of ideas. I was only a bit hypo. And I'm not entirely sure hypomania is an illness at all! Didn't the French used to call it "manie sans delire" ~ mania without madness...?
?
Sorry I really wanted to write about something more fascinating than my self self self but I'm running out of time!
I'm also running out of banging tunes to put up. At least ones that are new to me. So here's a classic one:
BINARY FINARY 1998
I haven't got all day to find an absolutely perfect version of this. In a succinct package, this is about as perfect as it gets...
This is the Trance Nation version. The one I originally put up. But it ends suddenly...
Why did the typeface suddenly change then??
Here's another mix of the same "song".... give it some time to get going... ukh, i'm not so sure I like this version... a horrible chillout mix. Listen to this if you've no pills and are desperate for something to knock you off to sleep! The proper tune doesn't get going till 3 minutes into it!!
Here's another tune I really like, though it's not dance music at all
JESSIE J: PRICE TAG (NOT ABOUT THE MONEY MONEY MONEY)
And all that talk about dysphoria and panic. I feel absolutely fine now. Music is a great therapy. I can get a greater buzz off than anything else ever. Including drugs!!
Why am I talking about drugs? They are infinitely boring.
I haven't taken any drugs except Nytol, which is over-the-counter, in days on end...