I'M MOVING HOUSE!!!
Back to where I really belong!!
Where the shops stay open 24-7 and there's foreign exchange students galore plus amazing television reception!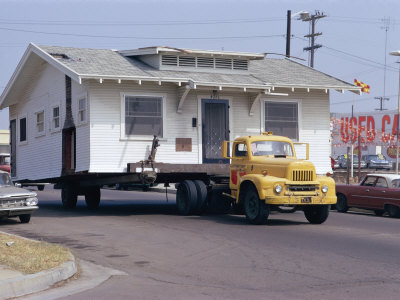 Best of all, the new place is on the ground floor, with full access to the back garden!
And there's a washing machine ~ thank God.
Plus I can go back to my old methadone clinic, where they know me and where you can actually see a doctor if you're ill. Basically I can't get away from the old place fast enough.
My landlord's handyman has moved half my stuff. Only the itty-bitty things are left: books, CDs, papers, kitchenware and sundries. I'm skipping the Seroquel (antidepressant/antimanic/antipsychotic that zonks me) tonight and staying up as long as it takes. Mark, the handy van driver, will be here for me at 9am sharp.
Once I've moved I'm going straight back to my old druggieclinic to beg an immediate transfer. Wish me luck ...
Only downside to the new area: it's so rife with drugs I've picked free heroin and crack of local pavements on numerous occasions...
On the plus side, the new address is in walking distance of five NA meetings.
I'm not sure: should I take my empty hamsteries with me ? I could hide them in a giant tartan laundry bag ... (If he sees them Mark might report me to the landlord for keeping pets.)
I'd better go and get packing... I am too excited for words!
PS: My hearing returned last night, stayed with me for half an hour this morning until I
sprayed the ear and DMMMMMMMM!! (Tinnitus sound.) I'm instantly deaf again! And stayed deaf all day, until I accidentally burped with my mouth closed: this popped my ear and the hearing returned more crystal sharp than ever! Tell me if I'm being illogical, but doesn't this imply a middle-ear problem? My hearing is gradually getting worse again, but I'm scared of deliberately popping my ear... How could one spritz of fine mist, a fraction of 1ml of medication, make me so profoundly deaf all day? I'm wary of using that spray again until I see a doctor on Friday... Who might finally reveal what is wrong with me!