EVA RAUSING, 48 year-old wife of Hans Rausing, 49, heir to the £5 billion ($8 billion) Tetra Pak drink carton fortune, has been found dead at the couple's £50 million ($80 million) Belgravia mansion here in London.
Eva made the news in 2008 after she was busted attemptedly bringing heroin and crack into a reception at the American embassy in Mayfair. Their home was raided and about £2000 worth of crack cocaine seized. For this she was sternly reprimanded by the Metropolitan Police and then let off scott-free ~ a move that was roundly criticized at the time.
The daughter of a top American Pepsi Cola executive, Eva met Hans at an American rehabilitation centre in the 1990s. Despite giving millions to drug charities, the couple continued to be plagued by their own addictions.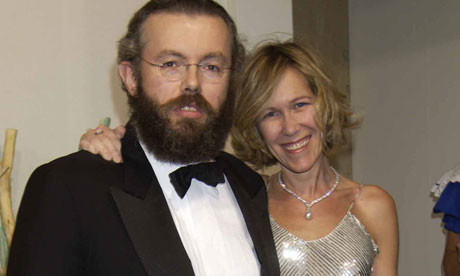 Hans was stopped for bad driving on Tuesday night and found to be in possession of crack cocaine. His home was then raided, leading to the discovery of his wife's dead body in a bedroom. Police suspect that he lived with her corpse for over a week. It is expected that Mr Rausing, who is currently undergoing in-patient psychiatric care, will be charged with concealing the dead body.
What else can I say? What a sad, sad tale. Proof, as if any more were needed, that though it can pay for just about everything else,
money cannot buy happiness
.
London Evening Standard ~ Heiress Eva's drug agony: I fell into dark hole of addiction
Eva Rausing's Myspace Page
PS The term "junkie" refers to the "junk" heroin addicts take. I call myself a junkie too!
BARBRA STREISAND: YOU'LL NEVER WALK ALONE
This Rogers and Hammerstein track is most famous in the UK as fans' theme tune for Liverpool Football club!