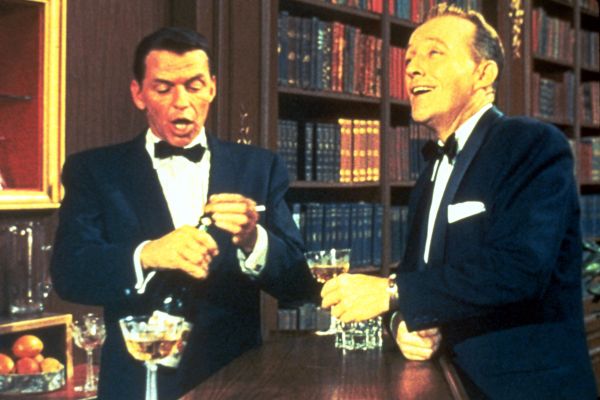 I AM WATCHING High Society.
I wasn't well enough to watch it yesterday, so it spent all night on pause. Somehow I have managed to lose my DVD remote control. Being as the player cost only £17 and has its foibles, I might as well get a new machine as pay £10 for a new remote.
I was in a strange mood yesterday. The type of mood where the thud of doors, the clatter of pans, forms words, so that inanimate objects speak to me. They never say anything particularly interesting, by the way, apart from the odd obscenity. So much for quetiapine 300mg. All it does is make my mouth as dry as the bottom of a birdcage.
Oh by the way that film has just finished while I was writing and I still don't know who ends up marrying whom. The picture quality was absolutely amazing. And the colours. How come 1950s films had such brilliant colour? Is it to do with the Technicolor process?
By the way, I notice by reading the DVD cover that Ted Turner owns the rights. The only truly successful bipolar person I can think of. He
bought the entire back catalogue
of MGM Pictures for $1.5 billion in the 80s. Exactly what I would have done, if only I'd had the money.
Grace Kelly was like a more glamorous Audrey Hepburn. She's the only woman I can think of who managed to get drunk on screen in a ladylike way. No wonder she became a princess.
Apart from Fank Sinatra, Bing Crosby, Louis Armstrong and Grace Kelly, the best thing about this film is the Technicolor interiors. If you get bored of the dialogue you can always just gaze at the background.
By the way I bet Louis Armstrong got paid less than the white actors. Racist bastards. Hey I'm jut watching the extra features. Did you know High Society cost $2.7 million to make in 1956. That's a lot of money. (It grossed $12 million later that year.)
And I'm still in a funny mood...

**********************************************
HERE are the two stand-out numbers from the movie.
If you get bored of the songs, just bathe in those brilliant collours...
WHO WANTS TO BE A MILLIONAIRE
FRANK SINATRA and CELESTE HOLM
TRUE LOVE
BING CROSBY and GRACE KELLY