I SAW A TV FILM called Life With Judy Garland: Me And My Shadows first thing in the morning.
My: was she a mess. I knew she had her pill problems, but didn't realize they were quite that bad. In the end she was taking 1600mg a day of
Seconal
, on top of heavy doses of (prescribed) amphetamine. Plus she was drinking heavily. Barbiturates like Seconal are supposed to magnify the effects of alcohol considerably. They also cancel out the jitterier side-effects of speed, so you get a double-high.
In the beginning she was depicted on speed giving a master performance: singing her heart out, gesturing, pinging across the stage, reaching out to audience members' hands etc. Then she put in an Oscar-nominated performance opposite James Mason in the 1954 film
A Star Is Born
~~ and yet no-one wanted to hire her afterwards because by that stage in her career she was already considered unreliable.
In the end she was performing concerts in theatres for practically no money because she owed it all to the IRS as back taxes for movies made the decade before. Drunk, confused, forgetting what song it was, tangling herself up in the microphone wire. And booed off the stage in Australia.
Her poor daughter Lorna Luft (upon whose memoir the film was based) had to tell a family court judge that she wanted to be with her mom rather than her dad because her mother couldn't live without her. This was true, in the most literal way. The judge sighed and granted custody to "Miss Garland". And the drunken, drugged confusion continued.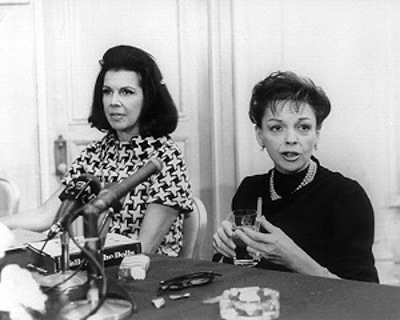 Towards the end, Lorna, who is barely in her teens, is reduced to a state of nervous collapse and physical exhaustion and realizes she just cannot go on. So Judy Garland is left alone and drinking. One night she cannot sleep despite all that Seconal and so she takes several more. And is found on the bathroom floor, dead.
It was a pretty horrible story. Funny how when you see something close-up it doesn't seem in the slightest bit "glamorous". A lot of people do consider drug-taking and even drug addiction glamorous. The more you see, the less you like it. But many don't see the full details until they themselves are addicted. By that time your one comfort, that seems to give you life, is the thing that is killing you.
*
I wasn't trying to say yesterday that I thought my lovely label would get my any special treatment. Merely that I tick a box. So they would know what preconceptions to shove my way if I ever did get inpatient "care"...
Here's a furry picture of a cute koala.
Illustrated: the woman to the left in the second picture is Jacqueline Susann, author of the 30,000,000 copy bestseller about pillpopping
,
Valley of The Dolls
...
*
MUSIC: Judy Garland sings THE MAN THAT GOT AWAY in A Star Is Born
I HOPE YOU HAVE A NICE WEEKEND
***